Westhampton Beach
Westhampton Landings Condominium is located within the Incorporated Village of Westhampton Beach.  There are several other communities comprising the Greater Westhampton area:  the Incorporated Village of Quogue, the Village of Westhampton Dunes, and the unincorporated hamlets of Hampton Bays, Hampton West Estates, Westhampton, Remsenburg and Speonk.  The Landings is situated on the scenic south shore of Long Island, about 80 miles east of Midtown New York, convenient to reach by many modes of transportation.
Within walking distance, the Village of Westhampton Beach offers a top-notch school system, super-markets, sophisticated shopping, trendy boutiques, numerous restaurants to satisfy any palate, a twin first-run movie theater,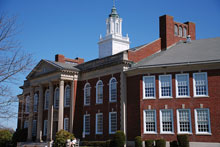 the Westhampton Beach Performing Arts Center for entertainment, and some of the most beautiful ocean beaches anywhere. Rogers Pavilion, one of the local beaches, is regularly noted as one of the top 15 beaches in the world! Additionally, the town marina, within walking distance to town, affords boaters an ideal location to tie up for the weekend or for the season. St. Mark's Episcopalian Church, Hampton Synagogue, Beach Methodist, Immaculate Conception Catholic Church and the Westhampton Presbyterian Church are some of the local areas of worship.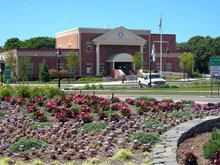 Walking, biking or taking a casual ride through the tree lined streets of the Village on Oneck, Beach Road or Seafield offers glimpses of wealth and grandeur demonstrated by very individualistic residences, opulent mansions paired with exquisite, manicured landscaping. A trip down Dune Road reveals some of the world famous contemporary residential architecture.
Tourism is still a major factor in the area's economy, but in recent years, more and more of the seasonal visitors have become year 'round residents, so that the celebrated Hamptons quality of life is being enjoyed by more and more greater Westhampton area people every year.
Points of Interest
Dune Road From simple beach houses to opulent mansions and architectural one-of-a-kinds. West along Dune Road can be found the new Village of West Hampton Dunes, approximately 3.5 miles from West Bay Bridge… which the locals commonly refer to as "Swordfish Bridge" because of the well-known private beach club it appears to lead to.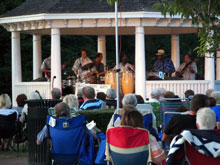 Village Green & Gazebo
Westhampton Beach's beautiful center and site of manycultural events and holiday gatherings. The Village Green and Gazebo is located on the corner of Main Street and Beach Lane, adjacent to the Post Office. Weekly events brought to you by the Westhampton Cultural Consortium, in conjunction with the Westhampton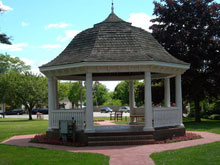 Chamber of Commerce, include live music every Thursday evening, live performances for children every Tuesday afternoon, and a weekly walk group. Please visit the Public Facilities/Chamber of Commerce for further information.
Shopping on Main Street The Village of Westhampton Beach features an eclectic selection of up-scale, semi-sophisticated shops.
Farmers Market Every Saturday morning, people can purchase fresh fruits and vegetables in an outdoor market brought to town from surrounding local farms in the Westhampton area.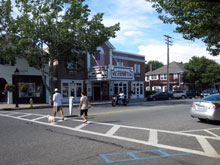 Performing Arts Center 76 Main Street…where tickets can be purchased for the some of the biggest names in show business.  This one-time '30s-style movie house also acts as a community center, providing children's programs, film festivals as well as a regular schedule of Film Society offerings and live theater. (631-288-1500).
Village Beaches Rogers Beach and Lashley Beach, each of which maintain lifeguards (in season) as well as restrooms and showers…. both beaches require permits for non-residents and Summer renters.  Rogers Beach with its snack bar has many of the benefits of a beach club, with none of the cost.  It is a brisk walk, a 5 minute bike ride, or a 2-3 minute car ride.  One of the attractions of Rogers Beach is that it is NEVER crowded.  Roughly five miles west on Dune Road is Cupsogue Beach, a county beach which can be used by non-residents for a small daily fee.
Westhampton Free Library It is a relatively short walk from the Landings, located on
Library Avenue, the next north-south street when one travels east from Mitchell Road.  It possesses an extensive collection of books, videos and other media that can be borrowed, as well as an extensive reference section, a vast array of periodicals, and computers that can be used for free.   The children's library is located on a separate floor, giving the children more space to roam, and access to an extensive collection of children's books, and computers.  Visit the library website.
A link to some of the attractions the Village has to offer can be found through this link: